SETIAWALK MALL
PUCHONG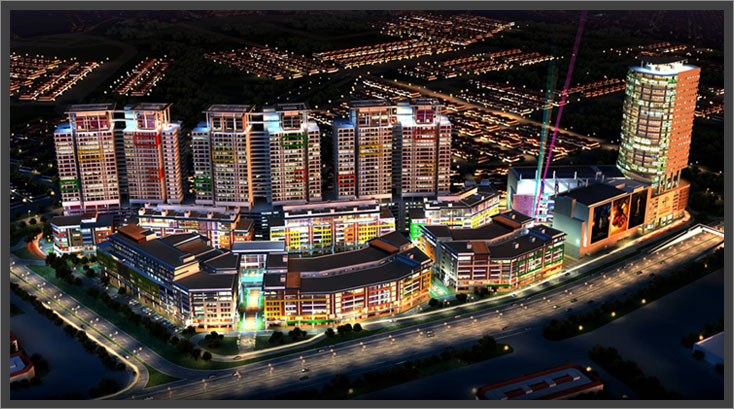 3D rendered picture by the SP Setia Bhd Group Property
A newly shopping mall that locates in the heart people of Puchong. It is SetiaWalk is under SP Setia Bhd Group Development Property. SetiaWalk, an innovative all in one development, where you can live, learn, work & play all under the same roof. Comprising retail outlets, offices, apartments, SOHOs, hotel and entertainment centres. Unique retail and office spaces that overlook waterways and fountains from a relaxing place to work, shop and dine. SetiaWalk offers the entire spectrum of lifestyle living, working and entertainment - comfortable and friendly environment.
I have always passing by this mall, SetiaWalk where my church is nearby. Puchong now grows into fast-pace life from urban small city. The SetiaWalk is still under in progress, as the other outlets has been opened since. Though Puchong is not my favourite place somehow I gave it a try to explore out. I wanna to watch a movie, actually. Despite of my busy schedule, I find a place nearby home. There I have decided to come - SETIAWALK!
After entered the SetiaWalk, my guy and I went to look for a car park at a bay area, not the basement car park. It was nice parking bay area. And we have to walk far, far.... and found that SetiaWalk is a quite big place to EXPLORE yeah!
Good to explore for dine!
Wah, a lot of good restaurants/ bistros and cafes to offer for DINE in. To name a few of them, they are;
Sushi Tei
Tokyo Kitchen
San Nae Deul
The Journey Cafe
Tappers
& much more...
Look this for more details
The beautiful waterways flowing in
The place can be view outside from Fitness Center, CELEBRITY!
Unique interior design
Fitness & Games to have good exercise and fun for!
Still some shops are opening up along the way
you may view this the shops' lists
Creative design on escalator
Cinema!!!
A very cozy cinema
Nice view inside the cinema...
I like the TGV Cinema very much!
To see SetiaWalk website;
For getting to there,
here you may go to:
Persiaran Wawasan, Pusat Bandar Puchong, 47160 Puchong, Selangor, Malaysia.