The Movie
I just had watched a great movie, San Andreas with my husband last Saturday in the late evening at 1Utama. I have been telling him how good San Andreas is. There he has decided to get us for our weekend off away. We had our so-comfort seats, with our favorite popcorn, cheesy sausages with soft drinks.
The film is emphasis on a devastating, magnitude 9 earthquake, the largest in recorded history. I have been wondering how earthquake looks like. We Malaysians are very much fortunate to have beautiful earthy to live on. Well, this movie talks about a beautiful family of 4 was living in a modern sentimental life. It does touch everyone's heart and you may be couldn't hold a tear watching it when you are in their situation. How scary it is when you lose someone…
The husband, Ray
The wife, Emma
The only daughter, Blake
The husband, Ray works as a search-and-rescue helicopter pilot and the estranged wife, Emma have a beautiful daughter, Blake. Blake's elder sister has died from falling into the river when she has a great time playing the water rafting with his father, Ray. From the incident, it was a big grief to the family that broken to pieces. Ray has blamed himself and he gets to focus on his work so dedicate and keep him busy away. Of course, he is not forgetting his another precious darling, Blake. Blake has grown up into a very lovely lady with intelligence, brave and independent. Emma got herself a new man, Daniel as she is going to file a divorce with Ray. It leaves Ray in a very depression way too much and he is still firm. Emma is not telling Ray about moving out to a new place and new family to San Francisco from Los Angeles. Ray keeps wondering oh why Emma has to do that. Ray tells Blake to have fun on her trip.
When Emma and Blake are in San Andreas on their trip. Daniel took Blake to Daniel's company. After had a short conversation between Daniel and Blake, Blake probably understands why her parents are not together. Blake accepts but in fact, she is not accepting Daniel the new father. Ray is on his duty, he gets the chance to call to Emma when she is having had lunch with her friend. Ray and Emma have hardly to express out their feelings toward to each other. No longer after that, Emma heard a strong earthquake that explode everything and everyone could die. As the earth cracks open and buildings start to crumble. Ray feels so much anxious but yet he is calm to ask her where she is. And ask her to walk up to the rooftop of building so he could see her. Then she is in so frighten and couldn't imagine all this happen so sudden. She is not ready to die. She runs for life. Ray has come to rescue her immediately without a second thought. Emma is not that strong woman but Ray keeps encouraging her to go on whatever she has. He got her finally. Emma is like she is hard to believe it is the man she once married comes to her.
The moment they knew they are destined to each other
As a team
Meanwhile, Blake is another place waiting for Daniel. From there, she has got to know two cute brothers, Ben and Ollie. Ben has interview there and he knows how famous Daniel is. When Daniel is about to leave the building, he called Blake to go home. They board to the car and suddenly Blake looks around and observes knowing something is not right. She said it is earthquake and Daniel shouted to the driver to drive out fast. And they are trapped in the car basement. Daniel told Blake to wait and he gets help. Blake said please do not leave her, whispering to her own silence a moment in crying and frightening. When Ben and Ollie are about to leave the building, Ben saw Daniel is roaming around in frightening and he is so much selfish. Ben is worrying for Blake who is trapping down there. Ben has told Ollie to get Blake now. They have rescued her and get out from the building. They are together to find an electrical shop so she could get contact to her father, Ray. And Ray has picked up the call and spoke to her. To his relief, Blake is safe with Ben and Ollie. Emma is there to hear too. Disappointed Emma to know that Daniel left her daughter alone. Emma screamed to Daniel in a leave message call telling him, useless man! Emma is about to realize only Ray is the true hero and sincere husband who are always there for family who is in trouble.
Ollie, Blake & Ben
Family comes first in Ray's mind. They realize how much they are so meant for each other still and never once to lose everything again. They work together as a partner team, best friends, soul mates to rescue their daughter, Blake. Blake is so strong person believes in her father's guidance that keeps her to stay calm and positive during the worst situation she faces. Ben and Ollie are amazed at Blake's true character. Ray has his many technical experiences that saved Emma and Emma has to admit that he is a good partner, leader and husband. Emma falls in love with Ray once again. They finally found Blake, Ben and Ollie who are trapped in a building and Blake is nearly drowning in water she has no much oxygen left. Ray has determined to save her from drowning that he needs Blake much more than anything. They all together have found one love in a family again.
Family is the best place where you can place your trust in.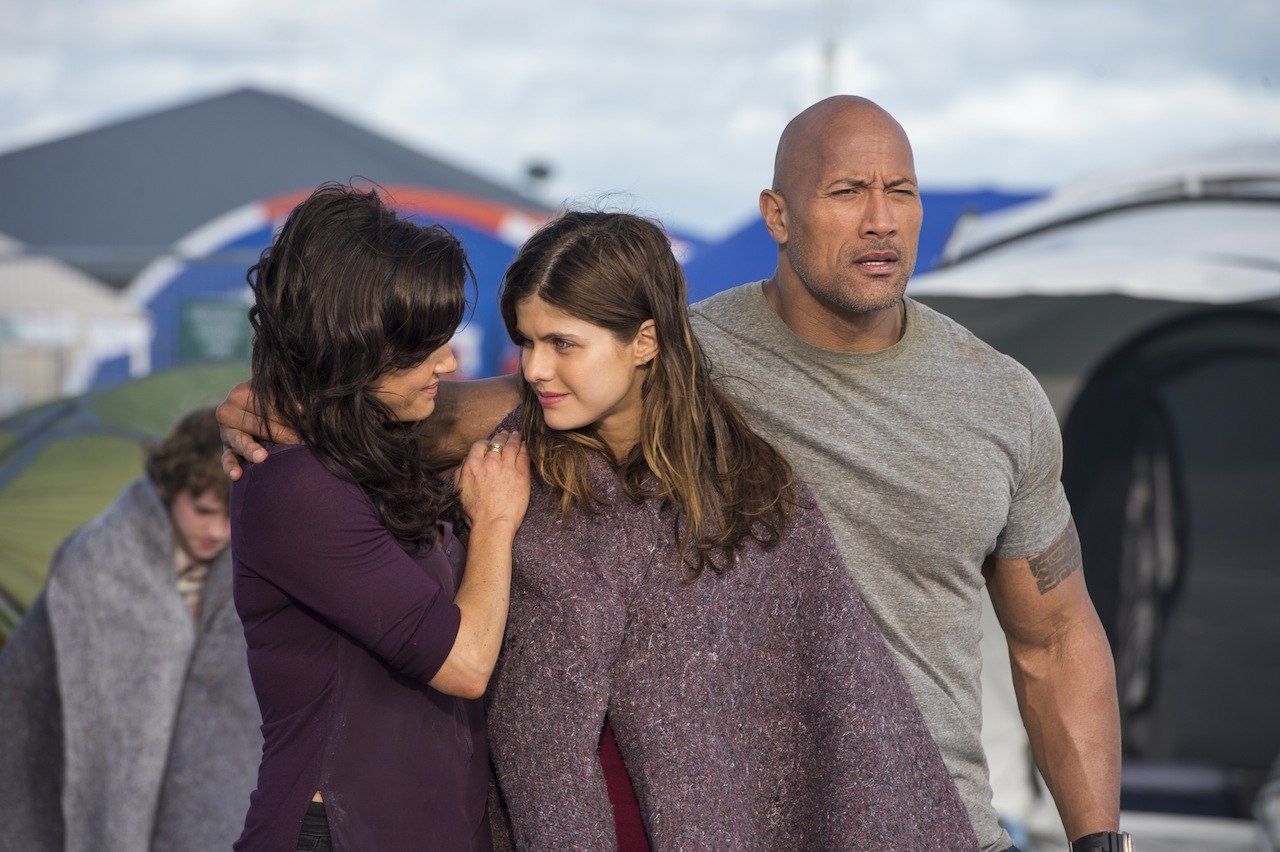 One Family
Moral in the film gives us to realize how we appreciate someone whom we love and care. We should build a good family with the base of foundations that we only have one chance from all
we have first married to our loves one. When something happens fast, we couldn't get back what we have regretted. It is nothing.
Every couple should feel so grateful to each other. Everything with someone who you first love is always the best. It is the first and last you will fondly always remember all your life to the end. Everyone is not so perfect.
Reason is not the point to end up but destiny brings you together and you live with the true love. It is not too late than never. Start now to build a healthy and happy life with loves one and family. A relationship never fails but you can always renew in anytime and anywhere.
And not forgetting to educate a child is an important part role in your life of being a parent. How can a child be educated well? A child is educated to understand the meaning of life. Life is unpredictable. Thus, a child should always have the good guidance from parents with a lot of patience, understanding and get through the challenges with a great of courage. Life won't wait for to start a path but you have to start now with an open-minded. There is a must always HAVE in every of parenthood to do the good testing, observation, mindful, logical and technical in all aspects you take and it is very useful in life you will be facing of with your child. A child learns as well. Never ever neglect to each other one or you will regret to lose one precious. A child will always have the respect to look upon you as proud parents. At the same way, a partner shows how much affection for her/ his love.
Always remember the precious moments with your family. Do spend time, work out the relationship and it will lead you completely understood what a life means so much to you. Not being only in a marriage life but also to your own parents and siblings.
Some are not unfortunate to have a good family, losing family, and so on. Those have family is much luckier. Thus, not to make more demands or you will lose something important you will never know. Appreciate what you have.
This rule is always important keys you should always remember: -
Ø
Always believe in no matter what
Ø

Have faithful, trustworthy and understanding
Ø

Encouragement with full of love