Thank you Sir Tony Fernandes for the invitation to be part of AirAsia's #GREEN24 climate awareness movement. They are embarking on a 24-hour climate change awareness movement, called #GREEN24 on the 29th and 30th January 2016, to educate and for all of us to make a conscious effort to take on issues surrounding to climate change; as part of AirAsia's Corporate Social Responsibility (CSR).
The Group CEO, Tony Fernandes
has filmed a special invitation message inviting you to be proactive in protecting the environment and our Mother Earth. This video is available for viewing on
AirAsia's Youtubechannel
.
Watch the video and join them by spreading the word on your blog, FaceBook, Twitter and Instagram. Don't forget to include their official hashtag #GREEN24challenge. Let's do our part in creating a better future tomorrow for the next generation and also for our Mother Earth.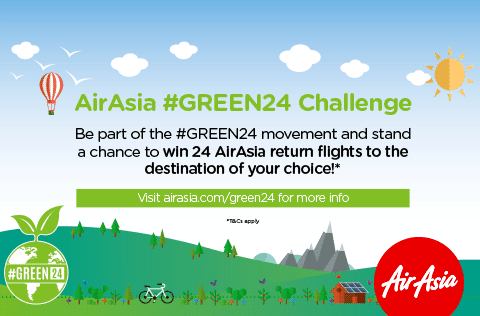 SEPANG, 15 JAN 2016 – AirAsia continues its climate change awareness intiative, themed
#GREEN24 which was first launched last November with a 24-hour climate awareness movement to
educate and promote climate action, as part of the airline's Corporate Social Responsibility initiatives
throughout the Asean region.
The airline released a special invitation video by Group CEO, Tony Fernandes inviting the
public to be proactive in protecting the environment and the earth.
In the video, which is available for viewing on AirAsia's YouTube Channel, Tony
Fernandes said, "On our side of the world, not many people know about the issues that climate
change poses, and we feel that the best thing for us to do is to inform people. Many of us don't really
see the problems coming, but at AirAsia we have seen the effects of climate change such as Typhoon
Haiyan that struck Tacloban in the Philippines, the floods that happened around the region and
massive climatic changes over the past two to three years.
"We always look after our own mothers, and we always put our mothers first in many things. But
now, it's time we put Mother Earth first as well. It's time we let the world know that we need to take
better care of the planet we live in," Tony Fernandes further emphasized.
The main activities of #GREEN24 will be carried out from 29th to 30th January 2016 throughout all the
countries which the AirAsia Group serves, inviting the communities across the region to participate in
promoting climate action at their respective home, workplaces, cities and countries.
The public can find out more information about this #GREEN24 climate awareness movement and
how to participate by visiting airasia.com/green24.
The initial activity held in November 2015 saw over 150 volunteers from across the AirAsia Group and
Tune Group of companies come together to clean the Kanching Rainforest Waterfall in Rawang.
Nearly 600kgs of garbage was collected in a short duration of 90 minutes during this waterfall
About the AirAsia Group AirAsia, the leading and largest low-cost carrier in Asia, services the most extensive network with over 100 destinations. Within 14 years of operations, AirAsia has carried over 300 million guests and grown its fleet from just two aircraft to over 170. The airline is proud to be a truly Asean (Association of Southeast Asian Nations) airline with established operations based in Malaysia, Indonesia, Thailand, Philippines, India and Japan, servicing a network stretching across all Asean countries and beyond. AirAsia was named the World's Best Low Cost Airline in the annual World Airline Survey by Skytrax for seven consecutive years from 2009 – 2015. AirAsia is the first airline globally to collaborate with INTERPOL to implement the I-Checkit system to screen the passports of all its prospective passengers against information contained in the world police body's Stolen and Lost Travel Documents (SLTD) database.
..............................................................................................
Tony Fernandes menjemput orang ramai untuk menyertai #GREEN24, gerakan kesedaran alam sekitar AirAsia
SEPANG, 15 JANUARI 2016 - AirAsia meneruskan inisiatif kesedaran alam sekitarnya dengan tema #GREEN24 yang julung kali dilancarkan November lalu dengan gerakan kesedaran alam sekitar 24jam bagi mendidik dan mempromosi kesedaran terhadap perubahan iklim, sebagai sebahagian daripada inisiatif Tanggungjawab Sosial Korporat syarikat penerbangan itu di rantau Asean. Syarikat penerbangan itu telah mengeluarkan satu video jemputan khas oleh Ketua Pegawai Eksekutif Kumpulan AirAsia Tony Fernandes menjemput orang ramai untuk menjadi lebih proaktif dalam melindungi alam sekitar dan bumi. Dalam video ini, yang boleh ditonton di saluran Youtube AirAsia, Tony Fernandes berkata, "Dirantau ini, tidak ramai tahu mengenai isu-isu yang timbul akibat perubahan iklim. Justeru, kami berpendapat bahawa cara yang terbaik adalah dengan memberitahu orang ramai mengenai isu ini. Ramai di antara kita tidak menyedari kesan dari ketidaksedaran menjaga alam sekitar bagi jangka waktu panjang, tetapi di AirAsia kami telah melihat kesan-kesan yang timbul akibat perubahan iklim seperti Taufan Haiyan yang melanda Tacloban di Filipina, banjir yang berlaku di serata rantau ini dan perubahan iklim yang ketara semenjak dua hingga tiga tahun kebelakangan ini." "Kita sentiasa menjaga orang tersayang dan kita juga sentiasa mengutamakan mereka dalam perkara-perkara yang ingin kita lakukan. Namun, sudah tiba masanya untuk kita juga mengutamakan bumi kita. Sudah tiba masanya untuk kita memberitahu dunia supaya menjaga planet ini dengan lebih baik, yang juga merupakan tempat tinggal kita," tekan Tony Fernandes lagi. Aktiviti utama #Green24 akan diadakan dari 29 hingga 30 Januari 2016 di seluruh negara di mana Kumpulan AirAsia beroperasi, menjemput masyarakat di seluruh rantau ini menyertai usaha menggalakkan tindakan menjaga alam sekitar di rumah masing-masing, tempat kerja dan negara secara amnya. Orang ramai boleh mendapatkan maklumat lanjut mengenai kempen #Green24 ini dan juga cara bagaimana untuk menyertainya dengan melawat airasia.com/green24 Aktiviti awal yang telah diadakan pada bulan November 2015 menyaksikan lebih 150 sukarelawan dari seluruh Kumpulan Syarikat AirAsia dan Tune berkumpul bersama- sama untuk membersihkan air terjun Kanching di Rawang. Lebih 600kg sampah telah dikutip dalam masa jangka singkat selama 90 minit yang dibersihkan sewaktu aktiviti membersihkan air terjun ini.
Mengenai Kumpulan AirAsia AirAsia, syarikat penerbangan tambang rendah utama dan terbesar di Asia, menyediakan perkhidmatan rangkaian penerbangan terluas dengan 90 destinasi. Semenjak 14 tahun beroperasi, AirAsia telah menerbangkan 300 juta tetamu dan memperkembangkan barisan pesawatnya daripada dua ke lebih daripada 170. Ia kini bangga menjadi syarikat penerbangan Asean (Pertubuhan NegaraNegara Asia Tenggara) yang sejati, dengan operasi yang berpusat di Malaysia, Indonesia, Thailand, Filipina dan India, menyediakan perkhidmatan ke jaringan penerbangan yang merangkumi semua negara Asean dan juga China, India dan Australia. AirAsia telah dinamakan sebagai Syarikat Penerbangan Terbaik Dunia melalui kajiselidik tahunan Syarikat Penerbangan Dunia oleh Skytrax bagi tujuh tahun berturut-turut dari 2009 – 2015. AirAsia menjadi syarikat pernerbangan global pertama yang bekerjasama dengan INTERPOL untuk melaksanakan penggunaan sistem I-Checkit, bagi menyaring pasport para penumpang melalui perbandingan maklumat yang terkandung dalam pangkalan data Kecurian dan Kehilangan Dokumen Perjalanan (Stolen and Lost Travel Documents: SLTD) badan polis dunia itu.